Thinking of becoming a Retailer and Stockist of Evan James Interiors Vintage Furniture Paints?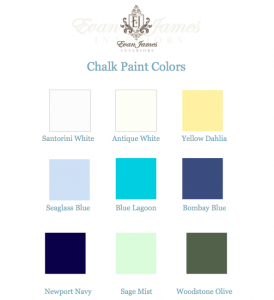 Evan James Interiors Vintage Furniture Paints and Wax Products are the perfect complimentary product for your store. Our paints are specially formulated to be totally free of VOC's and other harmful allergens that have become so common in today's household brand names. Our Vintage Furniture Paint has a low odor and is packaged in recyclable containers. Our paint is the result of years of testing and retesting chalk based formulas that work on many different types of surfaces, coating each piece smoothly, with an expert finish. We have recently expanded our color palate to 17 stunning colors and we continue to bring new products to the market.
Becoming a stockist of our paints and waxes is a great way to increase business for your store. We have customers throughout North America that are always looking for local stores to buy our paints, and to discuss tips and tricks with experts in painted furniture. This is a great opportunity for you and your store to benefit from the outstanding reputation of Evan James Interiors as a leader in all things Design! Keep your customers coming back to your store, and earn extra income month after month.
Evan James Interiors does NOT require you to carry our line of Vintage Furniture Paints and Waxes exclusively. We welcome all serious enquiries. This is a great opportunity for you and your store, and requires a very small investment compared to many other brands of chalk paint and waxes, so please contact Andrew at (646) 342-8020 or by email to get started today.